Faculty of Economics
Faculty of Economics
Understanding the workings of society through the study of economics.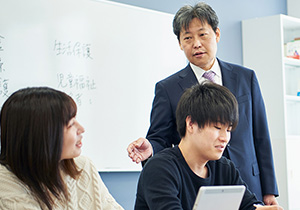 The faculty of Economics aims to assist students to be able understand the decisions of businesses, consumers, current economic issues and precisely how the economic system operates. Economic activity is continually affected by the complex interconnection and interaction of production,distribution,and consumption. Studying economics from a variety of perspectives allows an individual to gain a clear understanding of working models that may be re-applied as an incomparably powerful tool for understanding society.The curriculum of the Faculty of Economics uses a framework based on the theory,history,and policy of economics.

More than 60 courses are offered,covering a broad range of subjects related to the basic -framework.The courses include Global Economy, Business and Management studies,accounting,and Economic Policy and a large range of specialized classes to cater to the needs and requirements of individual students.In addition,Students are enrolled in seminars that extend through out their entire four years at the university.Seminars are taught by members of staff who are actively engaged in research in a variety of fields,consequently a diverse range of themes are covered in these classes.

Needless to say, the Faculty of Economics is committed to meeting the challenges associated with the trend towards globalization and the IT revolution. Outstanding educators with varied research backgrounds and representing well-known universities throughout the world are invited to lecture at the Faculty of Economics. In addition, students receive training in computers that extends from basic skills to applied techniques related to economics and management.
Global Economy Course

Students can choose among various classes related to "Global Economy", as well as International Economy, Business management, International Trade.

Policy and Management Course

The course is designed for those who wish to be public officials, NPO staff and school teachers. Students develop thinking ability through analyzing various social problems.

Accounting and Finance Course

This course offers various classes of accounting and finance for those who aim to be CPAs , tax accountants and bank clerks.

Business Management Course

Students develop administrative ability and knowledge to become entrepreneurs and/or highly qualified company managers.
Faculty of Law
Faculty of Law
Systematic educational approaches to understanding
the workings of the law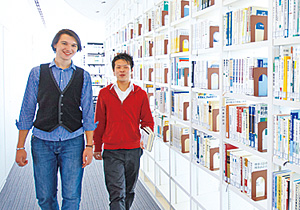 The faculty of Law at Osaka University of Economics and Law aims to nurture individuals capable of playing leadership roles in a society governed by law and in which each person's individuality is respected. The courses cover Legal Profession, Public Policy, Business Law, and International Relations and large range of specialized classes to cater to the needs and requirements of individual students.

Education in the law forms the foundation of this process, the fostering of autonomous individuals with a respect for the rights and interests of others, which is to say, thoughtful citizens. At the same time, we strive to meet the practical education requirements of each student with respect to his or her future career and employment goals.
The Faculty of Law is a place where students can learn about how the law functions in contemporary society in a practical sense, while also cultivating multifaceted understanding of the law's role in political and economic phenomena. In order to provide instruction in a broad range of areas, faculty are recruited from legal, government administration, and political fields. Professors with previous experience as judges, public prosecutors, attorneys, government functionaries, or media professionals bring to their lectures elements that cannot be found elsewhere. There are also public lecture delivered by currently serving corporate executives as part of new experiment in collaboration between industry, government, and academe.

Seminars also occupy an important place in the curriculum. Seminars on a variety of themes are presented by faculty with expertise in a wide range of research fields. The small class sizes provide an opportunity for in-depth discussions on such topics as the law and political science between students and faculty as well as among students.
Legal Professionals Course

This course is designed for those who aim to be legal professionals.
Students develop both the knowledge and critical thinking they need to be legal professionals and prepares them for the bar examinations.

Public Officials Course

This course offers a series of classes for those who wish to be government (local) officials, police officers, fire officers.

Business Law Course

This course is suitable for those who wish to work in the banking sector or the legal sector of a company. Students develop knowledge and ability of management and law.

International Relations Course

This course gives students a great starting point for a career in research, journalism, social policy. Students develop language ability and also knowledge of how to unravel the complex and often invisible problems in the International Society.